Emirates Golf Club Pool is located in the heart of the iconic clubhouse, well known for its mouth watering dishes and stunning views of the Dubai Skyline and inviting pool.
Take advantage of our ever-popular Pool Pass. Dive in to a fully redeemable pass starting from AED 120 for adults or only AED 40 for kids including a complimentary soft drink!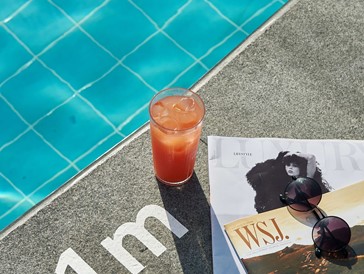 ---
SWIM LESSONS WITH ELITE SPORTS ACADEMY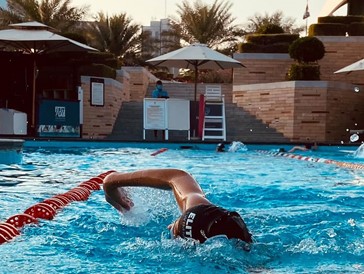 Elite Sports Academy focuses on developing your confidence and to learn how to be proficient in the water. With a range of health benefits, our team of qualified instructors seek to educate swimmers in water safety and working towards become successful athletes. Follow the Swim England framework, instructors use innovative ideas to help you become the best swimmer you can be. Whether you are looking for swimming lessons for kids, adults or babies in Dubai, Elite Sports Academy is for you. 
Note From Elite Sports Academy

Elite Sports stages system places students on a journey towards complete proficiency in all strokes (e.g. freestyle, backstroke, breaststroke, butterfly, side stroke, inverted breaststroke) and swimming skills. The swimmer's journey through aquatics following the framework will result in the development of a wide range of skills. These skills are pieces of a jigsaw and when put together, will result in a competent, confident and safe swimmer who has the foundations needed to help them reach their potential in swimming, as well as a skill base that can be developed for a wide range of water-based sports.

Elite Sport offer courses to all ages and abilities, catering for: - 

Learn to Swim Sessions
Swimming Squads
Adult Swim

Swimming Courses include weekly swimming sessions (midweek or weekend), End of Term Swimming Gala and Elite Sport Swimming Bag & Swimming Hat.
Secure a free swimming assessment for your child so that we can accommodate your needs as best possible, and enjoy 20% MEMBERSHIP DISCOUNT as an Emirates Golf Club member on swimming lessons when you register before the end of the 2022-23 Academic Year. 
Elite Sports are also delighted to offer Gymnastics sessions at Emirates Golf Club, with sessions available on Tuesday afternoons and Saturday mornings, taking place in the Fitlab studio, perfect for girls & boys, aged 3 – 10 years of age. All students can book in for their FIRST SESSION FREE OF CHARGE.
Learn more about lessons at www.elitesports.ae  or contact the team at info@elitesports.ae
---
---