Roseleaf Café, founded in 2012 by Rose Zeini and husband Leon, was born from a passion for home cooking, entertaining and the love of seeing generations of family come together over shared meals.
The wholesome, tranquil vibes at Roseleaf Café will make you feel right at home as you tuck into a unique selection of home-cooked meals with cultural influences from the Middle East, Australia and New Zealand. Serving a range of handcrafted coffee, delectable desserts and hearty meals, the passion for home-made cooking is instantly noticeable. Pop in for breakfast, lunch, an early dinner or a relaxing coffee and cake break!
OPENING TIMES
9AM - 6PM
Call: 04 355 5241
Email: emiratesdining@dubaigolf.com
For more information please visit www.roseleafcafe.com
Download Viya​ to earn loyalty points on your visit
You may also like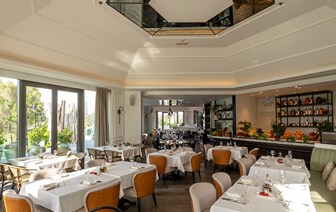 carine
carine offers a mouth-watering selection of French Mediterranean inspired dishes and unique cocktails.