Within the Country Club at Jumeirah Golf Estates, we have a family friendly pool which overlooks the 18th on Earth, and is the ideal location to soak up the sun and enjoy a cooling swim. A poolside snack and beverage menu is available. In addition to this, we have a children's pool that is shallow and is a safe and fun place for your little ones to enjoy a refreshing dip. Adjacent to the Children Swimming Pool, this is a great place for children to use up their boundless energy.
A new addition to Jumeirah Golf Estates is the brand new 25m lap pool, perfectly suited for those who want to enhance their fitness & wellness experience and include a different way to burn those calories. 
Huna Aquatics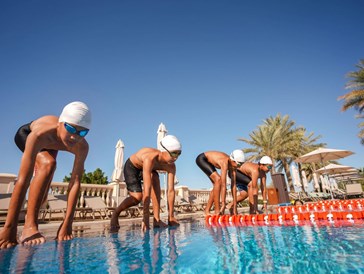 OPENING TIMES
6AM - 8PM Daily 

For enquiries & assessment
T: 050 278 9261
E: info@hunaaquatics.com
Direct appointments to be made
- Kids' & Adult group coaching on offer
- One-on-one coaching on offer
Huna Aquatics is a swimming academy that provides a world-class swimming program, designed and delivered by coaches who have performed at the highest level.
Programs have been designed to create an environment that is inviting to all, from learning to swim to competitive training.
Huna Aquatics offers a wide variety of learning opportunities through kids' classes, adult classes and 1-on-1 lessons, according to your specific needs. So, whether you're blowing your first bubbles or taking part in a competition, there is no better place than here. There is no better time than now. Let's dive in.
---
Country Club Enquiry Form